Channing Tatum is an American actor and film producer. He started out as a fashion model and appeared several commercials for Pepsi and Mountain Dew before appearing in movies. Coach Carter became is debut movie, and had a supporting role in She's the Man. But he's most know for his leading role in Step Up. Some other movies he appeared in are:
Fighting
Public Enemies
G.I. Joe: The Rise of Cobra
21 Jump Street
In 2012 he's voted Movie star of the year by GC. In this GC shoot, he's wearing a George Jenson watch. That particular watch isn't for sale at Amazon at this time. But it can be found at Ebay.
Channing Tatum often wears a military style of watch. In the soon to be released movie "White House Down" he's seen wearing a Bulova watch. It is a simple and elegant watch fitting for a police officer. Just like Bruce Willis, Channing seems to like wearing his watch dial downwards (for this movie).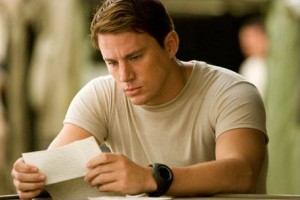 In the movie Dear John, Channing Tatum wears a Suunto watch. A Suunto X10 Military
to be exact. The watch has several nice features such as: an altimeter, barometer, compass, a GPS navigation. It lets you record routes, mark your waypoints and track speed and/or distance. You are able to connected the watch to a computer to visualize the tracks, plans and routes.
What watch does Channing Tatum wear?

,