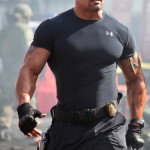 Dwayne Johnson is that big muscled up guy that plays a lot of different characters. He usually is one of the bad guys, never that much of a law-abiding citizen. In Fast & Furious 6, though he playes Luke Hobbs, a CIA agent which sole task is to track down and capture Dominic Torreto.

In this movie he seen wearing a Oris Pro Diver
watch. In most movies he stars in he wears a Panerai
watch. This Oris with a nice black rubber wrist suits him as well. Since he's wearing mostly black clothes.
What watch does Dwayne Johnson wear?

,