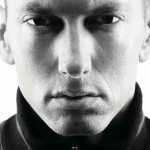 I'm not a particular fan of the rap/hip-hop scene. Eminem however made a big difference by making a name for himself in a manner that hasn't really been seen before in that scene. After releasing his independent debut album Infinite in August 1996, Eminem rose to mainstream popularity with the release of his February 1999 album The Slim Shady LP. The LP also earned Eminem his first Grammy Award for Best Rap Album. His next two records The Marshall Mathers LP, and The Eminem Show, also won Best Rap Album Grammy Awards, making Eminem the first artist to win Best Rap Album for three consecutive LPs. That's quite an achievement!
Just this november he's back with a new release: 'Marshall Mathers LP 2'. From that album the song 'Berzerk' is taken to be it's first single. In the videoclip Eminem is seen wearing several G-Shock watches. I've seen a black version of the G-Shock coming along and a very red one, probably this one.
Eminem and G-Shock

Eminem has a collaboration with Casio's G-Shock. That's the reason why he's wearing several G-Shock timepieces throughout the video. I've taken one in which he's obviously wearing a nice white G-Shock. But if you look closely in other images, you can catch glimpses of red and black watches. Eminem must always know what time it is.
See all G-Shock products available at Amazon.
(Picture with Eminem wearing the white G-Shock: Interscope Records)
What watch does Eminem wear in Berzerk?

,