It is hard to avoid Pharrell Williams these days. Not that I want to particularly, but for someone who is that divers in his skill-set he seems to be doing very well at a lot of different area's of expertise.
Lately he's been having a lot of success with the latest Daft Punk album, Random Access Memories. Especially with 'Get Lucky'. (Yes, I've bought is as well…)
But he also know for his clothing brands "Billionaire Boys Club" and "Ice Cream".
And these are just some of his accomplishments. It isn't a surprise that he's popular and makes a lot of media appearances. At these times he's seen wearing a lot of different watches and jewelry. Being a very confident and fashionable guy who seems to get away with everything he wears.
Some of the brands/watches he's seen wearing are:
– Casio (G-Shock)
– Audemars Piquet Royal Oak
– Richard Mille RM016 Titanium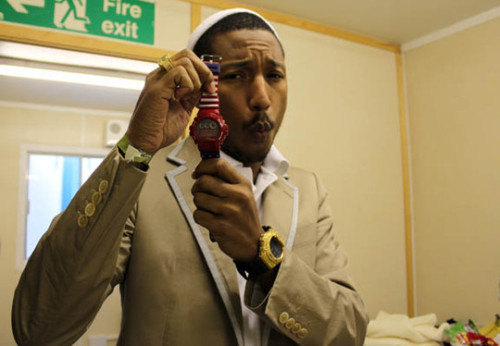 What watch does Pharrell Williams wear?

,