In American Sniper, Bradley Cooper plays the role of Chris Kyle. An expert US Navy SEAL sniper with four tours on his name. His level of expertise has saved countless lives during battle and had turned him into somewhat of a legend.
However, back home in the US with his wife and kids, he struggles. Chris finds that it is the war he can't leave behind. And that's still in his head.
On several occasions one can see his watch very clearly: a Casio G-SHOCK DW-6900.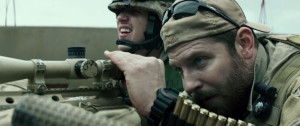 What watch does Bradley Cooper wear in American Sniper?

,